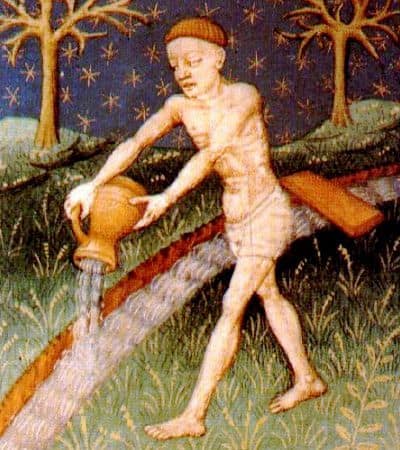 D
ear Miracles,
Blessed New Moon in Aquarius. Big thanks to all of you who celebrated Candlemas and Imbolg with me this year. Your prayers, intentions, petitions, and blessings to and for Brighid created a beautiful and potent altar of joy and devotion. As many of you know, St. Brighid/Goddess Brighid is honored for many things, among them the returning and strengthening light. Though spring may feel far away for many of us, Her presence reminds us that underneath the cold and frozen ground there is motion, warmth, and life – remember that it is this way for us too. I find that often at this point in the year we start feeling a bit dull and frayed around the edges – tired of Winter, not yet seeing Spring, and ready for something…new. And yet, within and underneath that dull and frayed surface there is so much and such continual life.
Aquarius is one of the signs that truly celebrates life, always showing up to ask: what's new, what's next, what's possible, what seems impossible and how do we make that happen? This New Moon at 19 degrees Aquarius happens at 8:39 AM central time on February 8th. It is a wonderful time to ask: How do I honor new relationships and how do I renew old relationships?
As you think about this question and your own relationships, you may become aware that some relationships are in need not just of a new life but of healing. Or, as you consider what is new and next and possible for you right here and right now you might find that there are certain wounds that are finally ready to be dealt with. In this spirit, we are focusing on health and healing of body, heart, mind, and soul in our next Here Be Dragons Ceremony. Join here for $10.
For those who love their devotional candles, the next candle lighting will be on March 11th. Orders should be received no later than March 10th at 12-noon central time.
Remember, you can get accurate information and inspiring prompts tied to all of the major celestial events this year on the Astro RX 2016 page right here.
Adventures in Soulful Seeking
Love seems to be on everyone's mind at this time of the year. Here are my favorite (and most popular) posts on love, relationships, and desire:
For those of you wondering about reconciling with a past lover – it is often possible, but the first step is much closer to home.
Care is an integral part of love. And where does care begin? With yourself of course.
Along those lines, here is the very popular Blessing for the Body – a very deep Valentine's Day or any day ceremony.
My favorite bit of love and romance alchemy? The making of a sweet and sublime honey jar.
If you are dreading Valentine's Day and the whole "romance in the air" then I've got you covered.
And if you are more interested in what you will nibble on this month (as opposed to who you will nibble with) check out my Vday truffle recipes.
Finally, my personal favorite love post.
And, because receiving is nothing without giving, here are some of the things I am loving right now:
Theresa Reed's new blog series on astrology, Star School, is seriously awesome.
The lovely Pamita of Parlour of Wonders has a nice give away when you sign up for her newsletter.
Téa Silvestre of Story Bistro is our next guest on Talking Shop this month – be sure to tune in and learn all about beautiful, soul-filled, approached to marketing. You can also snag the most recent Talking Shop show (during which we talked to the amazing Chris Zydel and got the inside scoop on creativity) right here.
Bari Tessler's amazing program The Art of Money is starting – I know Bari, love her work and highly recommend this program – as usual I receive no kickbacks and I am not an affiliate, just a true believer!
Words and Wonderings
I have a bunch of reading suggestions for you all – which is appropriate given the fact that Aquarius LOVES books, information, reading, and learning (as any good Air sign does).
David Bowie. Alan Rickman. Paul Kantner. Abe Vigoda. Glen Frey. These are just a few of the celebrities that passed beyond the veil in January 2016. As a result, especially from Bowie and Rickman's death, there was a huge outpouring of public grief on social media and of course the subsequent rebukes for those who made their feelings known. This Atlantic article looks at the public outpouring of grief throughout history and considers how it is working in our culture today. Of course for soulful seekers and those working with the sacred arts we recognize that there are ancestors of spirit as well as ancestors of flesh and blood and we honor our beloved dead, ALL of our beloved dead, accordingly.
And, if your heart is feeling a bit raw and bruised from all of the loss, then why don't you spend some time with the daily blessing collection?
I am so excited about this: the world's oldest temple is being restored!
Longtime readers of mine know that I adore Terri Windling's blog. Her December post on Sacred Ground is of especial interest to our community, check it out.
It has been a good month for the happy marriage of high fashion and fairytales.
Actually, it has been a good month for fairy tale writings, period. Eyebrows raised when this article claiming that fairy tales are much older than we originally thought arrived. Some of us had the immediate response of "well, yes of course they are", while others were not so sure. If you want to take the article a bit deeper, here is the research methodology that was employed. Wrap it all up with a final article on the ways in which these stories pre-date Christianity.
Some of these topics came up in a recent conversation we had in the Spinning Gold forum and I mentioned what my own approach to fairytales is…I work to understand the stories as they understand themselves. This is a point both my informal and formal education agrees on and it has served me well – may it do the same for you!
And one more (my personal favorite) on fairy tales by Philip Pullman, author of the Golden Compass books among others on the challenge of re-telling Grimm's fairy tales. I have experienced much of what Pullman points out in my own re-telling of beloved stories for Spinning Gold – a highly challenging and highly rewarding endeavor.
This is what we are noshing on at my house right now, sans the MSG. Yum!
I'll leave you with this final thought from Bruno Bettelheim's wonderful book on fairy tales, healing children, and much more, The Uses of Enchantment:
"If we hope to live not just from moment to moment, but in true consciousness of our existence, then our greatest need and most difficult achievement is to find meaning in our lives."