Hi, my name is Briana.
I'm a writer, teacher, spiritual counselor, and ritualist dedicated to the field of Sacred Arts and my growing community of soulful seekers. My book Making Magic by Briana is available worldwide from Sounds True Publishing and I am currently at work on a second title: Star Child: Joyful Parenting Through Astrology.
Press
Reviews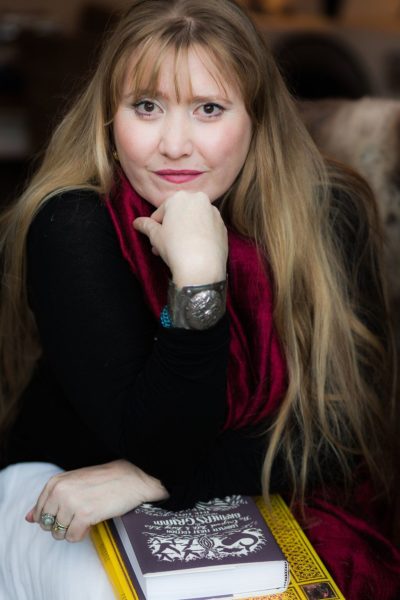 About Briana
Hi there, I'm Briana, or, as many like to call me, Bri. I'm a writer, teacher, and spiritual counselor, and leader for a growing community of soulful seekers. People who are drawn to my work want a practical and creative approach to spirituality. They are open to the spiritual riches of the world religions, as well as the contributions of modern psychology to man's search for meaning; but they feel a need to explore the often overlooked and forgotten regions of folk divination, magic and storytelling practices.
My work speaks to anyone who is looking for range and comprehensiveness of vision, which is required for a genuinely pragmatic approach to spirituality. I am well-grounded in the world's great religious and intellectual traditions, as well as western psychological practices. I hold a B.A. and M.A. in Eastern and Western classics, philosophy, mathematics and science from St. John's College (Annapolis and Santa Fe), and is a student of Ancient Greek and Sanskrit.
I come from a diverse lineage of South Texas – from Scotch-Irish, Cherokee and Chickasaw, to Mexican and Jewish roots – which has informed my own direct experience with survivals of fragmented folk magic and storytelling traditions. I live in my hometown of San Antonio, Texas with my husband, two sons, and a variety of furred, feathered, and fanged friends.
Beyond conversations that make me think, sweet kisses from my beloved, and good times with my family, I find that strong coffee, good dirt, and true words are some of the best things in life.
My first. book, Making Magic is available worldwide from Sounds True Publishing. My second book, Star Child: Joyful Parenting Through Astrology is forthcoming for Summer 2021.
WHAT ARE THE SACRED ARTS?
The Sacred Arts help us – not just survive – but thrive even and especially in difficult times and situations.   They can help identify the one or two real questions we are terrified to ask – but need to.  And they can aid in finding real solutions to real practical problems – problems of love and relationship, problems of work and of money.  They can open up choices where we thought there were none at all.  They help us find the maps leading to the greatest hidden treasures of our life.  The Sacred Arts can support our ability to live the life we were meant to live – a magical, wondrous and shining life.
My fundamental standpoint is that a great body of interrelated sacro-magical practices, which have been the global norm in human civilizations, was thrust into the darkness, "occulted",  as a consequence of complex historical factors.  Far from being eccentric and fringe, this body of practices, I contend, offer very basic ways in which ordinary people from around the world, so often those without power and influence, were able to empower themselves and seek meaning and guidance through the perilous terrain of human life.  What are popularly rejected as superstitions, I see as entryways and springboards into a grounded and pragmatic spirituality that leads to personal sovereignty, and to a life of wholeness, holiness, and healing.
All too often, these sacro-magical practices or Sacred Arts are treated in isolation from one another, but in fact, they are a community of practices that mutually support and correct one another.  They are a body of arts and practices anyone can learn, just as we learn to read, write and count, or learn how to paint and draw. They are: -Prayer, Blessing and Meditation –Ritual and Ceremony –Divination, Dreams and Astrology –Magic and Alchemy –Cleansing and Purification –Right Relationship –Lineage and Legacy My scholarly and practical work in counseling and teaching aims to piece together the fragments, clear away the sedimentation, and show how the seven Sacred Arts can be put to effective use for soulful seekers in the 21st century.
Briana 's work is dedicated to introducing the life-changing power of the Sacred Arts to a mainstream modern world without compromising the integrity and excellence of those practices. In my one-on-one counseling capacity for individuals, in my writing and teaching with and through the Sacred Arts, I am a big believer in the adage "give a person a fish, and it will last for a day; teach a person how to fish, and there will be fish for a lifetime."   I do not offer a dogma, silver-bullet solutions or a rationalistic system falsely promising amazing transformation in ten easy steps – or a simple formula. Instead, I am a strong believer int the adage that magic works when we do.
My practice is built upon a strong foundation of respect for:
 The sovereignty, creative and questioning capacity of the people whom I counsel and teache.
 The perennial wisdom of the world's great religious and philosophical teachings and practices.
 The contributions of the science of psychology to our concrete understanding of the human soul.
 Forgotten and unseen or "occulted" folk traditions of magic, divination, and storytelling.
There are many ways people can work with me. I teach a year-long introductory class on Sacred Arts and storytelling called Spinning Gold. For those interested in developing Tarot mastery, and who want to make Tarot their own, I offer a powerful program called 20 Question Tarot.  For those who desire in-depth one-on-one work, or who would like a more customized learning experience with the Sacred Arts, I work one-on-one in a counseling capacity for individuals, with and through the Sacred Arts. In addition to teaching, I write a lunar letter which goes out to my community on a bi-monthly basis. My blog Canto features cumulative writings on a variety of sacred arts topics.  My writing has also been featured in Elephant Journal, Kind Over Matter, Orion Magazine, Tiny Buddha, Amulet Magazine, Plant Healer Magazine, and various books. I also sends out daily blessings because I thinks the world has too much in the way of advice and not nearly enough in the way of blessing
KIND WORDS FROM MY CLIENTS