Welcome to Spinning Gold!
SPINNING GOLD
Weaving the worlds together through story and magic.
Magic has a story.
As I wrote in my first book, Making Magic:
Magic is a wild animal. It is hawk and eagle, raven and owl, coyote and fox, wolf and wildcat, badger and bear. It shifts into all of the shapes and forms in between. Magic has been hunted and harried, tortured and trapped. It has witnessed its kin killed and its natural habitats destroyed. And like all wild creatures that find ways against the odds to survive, magic has grown careful and cautious, wise and wily. It is seen only in glimpses—a flash of eye, a swish of tail, a blur of motion—and then we are left with only trees and shadows and stars. It cannot be pursued in the usual ways. It is not something you can buy with money, earn through good behavior, or attain through the heat of drama and risk. The wilderness in which this particular wild animal resides is not found in some exotic place. It is here, and it is absurdly, wildly, free.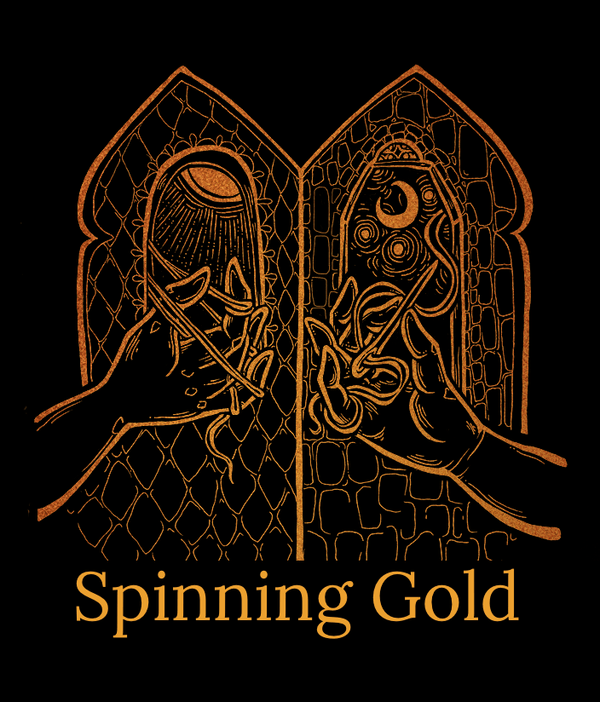 Magic has a story, and part of its story involves family, just as your story does.
The Sacred Arts are magic's family, and we cannot come to understand it until we know them.
Spinning Gold is where discover the Sacred Arts in their natural territory of folklore, myth, fairy tale, ceremony, and ritual practice.
Stories are not static.
They are living, breathing, beings. They hunger for the just right words, they thirst for an open-eared audience. They can feel lonely, ignored, and they can be abused and twisted beyond recognition.
When stories are remembered and restored they come alive, they twist and turn in fast sambas and swift split leaps and slow waltzes.
Stories also find one another.
At some point the story of Magic became part of your story and that is why you are here right now reading these words.
Isn't it time you find and get to know the story of your own, inner, magic? Really get to know it – in all of its stunning originality and particular detail?
Spinning Gold is where we live next to the electric truth that all true magic comes from "within" and meet some essential characters in the story of magic and the story of you: Love, Faith, Hope, Justice, Moderation, Courage, and Wisdom.
Stories have history. Stories are history. And, how do we create the future? We tell a story.
Spinning Gold is where we learn to reach into our lineage and broaden out into our legacy. Discovering both our Ancestors and our Descendants.
Stories have names.
They hide names. They give names. They challenge the names we think we know.
Spinning Gold is where we learn the true power of our name.
Magic has a story and so do you.
Are you ready to discover and hear them? Are you, take a breath now, ready to tell them?
If so, then you are ready to begin Spinning Gold.
Tuition:
Spinning Gold is the foundational course for the Sacred Arts Academy. When you enroll in the Sacred Arts Academy you receive access to Spinning Gold as well as all of the courses that are live in the Academy.
All membership spaces for the Sacred Arts Academy 2023 are currently full.
In Spinning Gold you will learn:
What the Sacred Arts are
About the connection between Sacred Arts and Story
The seven natural powers that each individual has and how they show up for you
How to write your way back to yourself
How to work with a lasso/cord to reach into lineage and legacy
Dream Magic
Sacred Arts journaling techniques
The hows and whys behind Active Imagination Meditations
About the connection between Magic, Mindset, and Manifestation
You core wounds, their appropriate medicines, and their great blessing ways
The power hidden within your name(s)
Foundations for establishing right relationship with the living world
Note: Participation in Spinning Gold is a prerequisite for participation in any other SAA courses.
Course Details:
Spinning Gold is a year long course comprised of 7 teaching modules that are each centered around a guiding story. We work with a month on/month off schedule so that learners have time and space to implement the content they have immersed themselves in.
Each month of the course features a teaching call with me that is available to the entire group – current students and our lifetime access alumni and/or alumni who have chosen to audit the course.
The general syllabus includes:
Delivery:
Delivery: Modules are delivered through the private classroom and portal which all learners must join so that they can access their materials. Modules are composed of MP3 audio files, pdf's, and videos.
Timing:
Timing: Spinning Gold begins and concludes on Summer Solstice each year.
Returning students:
Returning students: Returning students may choose to audit Spinning Gold for a reasonable fee each year. Auditing the course provides students with access to all course materials, including new materials, and the monthly teaching calls.