Feast Days for the Radically Reverent
Next Feast Day: Michaelmas, the Feast of Archangel Michael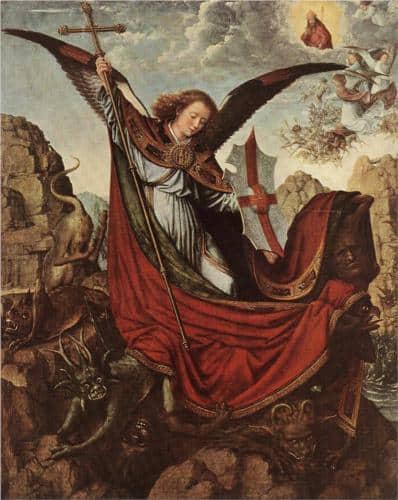 So who is Archangel Michael and why might you wish to join me in honoring him? Let me tell you a bit about him…
Archangel Michael has always been the one to stand for those that no one else would stand for; that no one else would stand with.
We remember that he was called by and attended to the sick and the dying who everyone else was afraid to touch.
Called on by women who were battered and broken and alone with children – outcast from their tribes, their cities, and their communities.
Called on too by various, deeply persecuted religious minorities beginning with the ancient Israelites who loved him so much that they composed hymns and beautiful poetry in his name and for his honor.
If his serene in-the-midst-of-battle face confuses us, might it help to remember that long before he was a warrior he was a healer and that maybe, just maybe, in every war-torn heart there is the deepest ability not only to be healed but to heal others?
Does he seem more real now?
Let us listen, for truly more than gold, sacred smoke, and fine food, the greatest offering we can make is our time, our attention.
What does Michael, Archangel and Saint, brother and beloved, ask you?
Does he speak to you of will – that virtue that has been forged in the fires of your life and polished with your tears and prayers until it gleams as surely as his sword does with your keen-eyed ability to judge and discern correctly?
Does he speak of boundaries – honoring the ones that you have set for yourself and the ones that have been created by others?
Does he tell about how it is to go into battle and stand up for the ones who are unseen, unheard, and often without hope?
Does he whisper that above all else you must do this: protect and nourish all that is tender, vulnerable, and still growing to full maturity?
Often in congregations or in individual practices intense time of honoring and offering spent with a holy figure ends with feasting and merriment.
The feast is a reminder that we are embodied and that our precious bodies need to be honored too — that "spiritual stuff" is decidedly immanent. The merriment affirms that we are among friends and families, and it is in our relationships where we put what we have discovered into actual, living practice.
May we all feast well, be blessed, and be blessings in turn.
What are Feast Days for the Radically Reverent?
Born into a family full of many devoted Catholic practitioners, Feast Days are one of the aspects of folk tradition that I love best. There are hundreds of Feast Days – in fact, according to official Catholic calendars every single day is a feast day – and that alone is a though worth pondering – what would happen if you treated every day as a feast day?
Several years ago in my own practice I began creating altars and honoring ceremonies on Feast Days that have deep personal significance to me and inviting my community of soulful seekers to join in the process of honoring by sending in their own prayer requests, blessing ways, petitions, and thanks givings.
The results are always stunning. They remind me again and again that the act of blessing is transformative and also deeply universal — every year individuals from all over the world and many different cultural and ethnic backgrounds identifying as Christian, Catholic, Jewish, Muslim, Buddhist, and followers of various alternative spiritual paths come together in blessing. It is a profound time always and one felt deeply by all participants.
These Feast Days can be found on various calendars but we celebrate them together with one thing in common – radical reverence; this is reverence that goes right down to the root of things in plain speech and in direct, heart-felt actions.
Feast Days for the Radically Reverent are open to all people who would like to come together to celebrate, request, and bless. They are 100% free of charge and always will be.
Save
Save
Save
Save
Save
Save
Save
Save
Save
Save
Cost: free
Participation: Use the form to send in your petition for the Michaelmas Altar
Registration closes: 9/28 at midnight central time.