Making Magic:
Weaving Together the Everyday and the Extraordinary
NOW AVAILABLE!
It is time for Making Magic.
Magic is found at the roots of our experience.
No matter who you are or where you came from, there is magic in your ancestral lineage.
Through storytelling, practical guidance, and powerful prompts we will explore ways of directly engaging with the extraordinary forces of the universe in our everyday lives.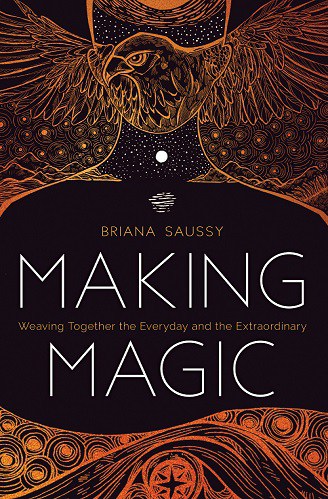 We need magic in our daily lives. Without it, life feels flat and uninspiring.
If you're craving more magic in your life, my new book—Making Magic—was written for you. Learn how to begin tracking the wild animal that is magic through your daily life. Discover how to make magic using things you already have in your home, like candles, tea, salt, string, and even doors. Bring more awe, wonder, and sweetness — the extraordinary — into your everyday.
I hope Making Magic becomes a treasured part of your book collection!
Praise for Making Magic:
"This informal trove of spiritual advice will appeal to any reader interested in working magic into everyday life."
—Publishers Weekly
"With Making Magic, Briana Saussy provides a clear, welcoming guide to accessing your magic and creating a spiritual path that is all your own. She teaches you to recognize and locate the magical powers that already exist all around you and within you. If that wasn't enough (and really it is), if you, like me, are a fairytale lover, this book contains one of the best versions of Goldilocks ever. Recommended!" —Judika Illes, author of the Encyclopedia of 5,000 Spells, The Big Book of Practical Spells, and other books devoted to the magical arts
"This extraordinary little book is the medicine we need now! Many elders say that the global change we need most will come when we make changes inside our own homes. With ourselves. In our families. Making Magic instructs you how to begin to walk in your life in a sacred way. I can't wait to share this book and its profoundly beautiful practices with my students!" —Sarah Bamford Seidelmann, shamanic healer and life coach, author of The Book of Beasties and Swimming with Elephants
"Put down everything you've been told about magic—that it's arcane, occult, and forgotten in the mists of time. Then pick up Making Magic. Here you will discover that magic is alive. She is fresh and new, fluid and flexible, and a totally natural and normal part of an everyday life—your everyday life. And the best part? You will remember that the magician is you." —Janet Conner, author of Writing Down Your Soul, creator and host of the Praying at the Speed of Love podcast
"Making Magic is a wonderful walk through a world that makes everything seem a bit brighter; a shimmer suddenly catches our hearts and minds where before there was darkness. Briana Saussy teaches what magick can be in our lives—an undercurrent of joy at the smallest of occurrences, or the rush when we realize our unlimited potential in creating our own kingdom right here on earth." —Damien Echols,New York Times bestselling author of Life After Death and High Magick
"This is a book for those seekers who wish to remember and recover their magic. Briana's wise words and simple rituals make magic accessible to everybody. If you use the practices in this book, you will bring the sacred into your everyday life and find the mystical in the typical. For those who are ready to begin living a magical life, this is the book you've been waiting for." —Theresa Reed, author of The Tarot Coloring Book
"Making Magic is not only the most beautifully written book on any such subject that I have ever read . . . . It's contemporary, erudite, and invigorating yet reassuring." —Mystic Medusa, writer and astrologer at MysticMedusa.com
"In Making Magic, Briana Saussy gets us to the root of magic. She sets aside the arcane ceremonies, ancient chants, and dogmatic rules and reveals how to weave spells that speak to who you are and the world you are living in. [Y]ou'll feel as if you've been taken under the wing of a loving aunt who is sharing family wisdom with a good dose of humor and common sense. Following the exercises at the end of every chapter will change your life for the better, beyond any shadow of a doubt." —Jason Miller, author of Protection and Reversal Magick, the Strategic Sorcery Course, and other books and courses
"Briana Saussy truly understands magic: the history, practice, myths, and tales of humankind's age-old relationship with the more-than-human world. In this wise and beautifully crafted book, she guides us through practices designed to open us up to a numinous world that's all around us, at the edge of sight, and to help us live our everyday lives in a mythic, soulful, purposeful way. I have long been a fan of Briana Saussy's work. Making Magic is the book I've been waiting for." —Terri Windling, folklorist and author of The Wood Wife
"Making Magic is a no-nonsense guide to practical magic—meaning magic that changes stuff, ourselves included! Filled with exercises, hands-on work, and guided journaling, it helps us to remember and reimagine what magic can and does mean for each of us. Briana has created a great guide for finding the magic in the world we already inhabit, as well as how to grow it into a stronger, more helpful ally. . . . Highly recommended for those looking for a straightforward and gentle start in the sacred arts, without the necessity of taking on a new faith or tradition or having to learn a lot of occultist jargon." —Aidan Wachter, author of Six Ways: Approaches & Entries for Practical Magic
"In a sea of seemingly endless treatises on magic, Briana's work is absolutely unique. The means by which she weaves ritual construction, magical theory, and useful, no-nonsense exercises into such an eloquent, cohesive, functional system of sorcery is both poetic and pragmatic. Making Magic is a blessing—a means by which you can genuinely improve and enrich your life and the lives of those around you . . . [A] tremendously important, absolutely groundbreaking work." —Elizabeth Barrial, perfumer-in-chief for Black Phoenix Alchemy Lab
"Rich with mythology and dripping in the sweet honey of folklore, this book will lift your ordinary days into the extraordinary, with gratitude for the mystery and opportunity for ritual that surrounds you." —Pixie Lighthorse, author of Prayers of Honoring
"In Making Magic, you won't find demands to seek high and low for esoteric supplies, or confusing references that obfuscate rather than clarify. Saussy's book is a beautifully grounded resource about the magic we can make in our everyday lives, weaving sacred practice into the fabric of our very spirits." —Esmé Weijun Wang, author of The Border of Paradise and The Collected Schizophrenias
"From the first paragraph, I was enchanted by Making Magic. . . . Let Briana Saussy help you remember all you once knew: that your holy helpers have your back, that the herbs and spices on your kitchen shelf hold potent magic, that sending out a call means there will be a response. You only need to hone the skill to recognize it. And this book will show you how. Making Magic is a precious touchstone—just right for beginners on the path, as well as more seasoned soulful seekers." —Joanna Powell Colbert, creator of the Gaian Tarot and co-creator of the Herbcrafter's Tarot
"This book is a must read for anyone interested in learning how to wake up in an exciting and mystical way. . . . Through her beautiful writing, Briana Saussy takes the reader on an adventure to deepen one's soul. She uses a mixture of poetic imagery and guided steps to help people find their own magic and what makes them feel alive." —John Lockley, author of Leopard Warrior
"One of my favorite things about Briana Saussy is the way she encourages people to find their own way and make their own meaning. She'll give you guidelines and suggestions, but the real magic is in listening to your own heart, opening and deepening a relationship with the numinous life inside and around you. Let Briana be your guide to your own magic." —Megan Devine, author of It's OK That You're Not OK
"This book is a zephyr—a playful breeze that rustles the veil separating the ordinary from the magical, revealing a landscape wherein every particle of being shimmers with the sacred. This holy ground, as it turns out, is where we already live. We need only pay attention, and claim it, and praise it." —Mirabai Starr, author of God of Love and Caravan of No Despair