Spiritual Services do not fit easily into a single category of say, Tarot, or Astrology, because they call on ALL of the various skills found in the Sacred Arts.
My Spiritual Services include divinatory consultations known as Sacred Arts Sessions which can be utilized as a stand alone reading or as a precursor to more serious work, a year-long retainer program called Witch in Your Pocket that is always in high demand, and custom ceremonial and ritual work. I am also available to create liturgy and/or perform services for wedding, funerals, christenings, birthings, and death stewardship.
I am blessed to work with a number of different clients – many of whom I have decades plus relationships with – from around the world.
I comfortably work with Holy Helpers from multiple religious and spiritual traditions and I am an ordained non-denominational Minister.
My own personal beliefs are based in the concept of right relationship to all beings. I'm an Animist, viewing the natural world as alive and enspirited, and I work extensively with the Holy Helpers of my own heart, heath, and home as well as my Ancestors and Descendants.
For more on my approach to spirituality please see my book.
Sacred Arts Sessions
You. your questions. Your hopes. Your fears. Above all your curiosity.
And Me. My traditions of divination, magic-making, astrological know-how, and creative journeying techniques.
Together we will make magic happen.
Not wish upon a star and then twirl your fingers for the next three months kind of magic.
No.
Think along the lines of visiting an old witch who lives in the woods (maybe in a chicken-footed house) in order to receive just the right blessing, potion, or enchantment that will kick start significant change and transformation right now and you've got the idea.
Feel along the lines of a tarot or astrology session that delivers rapid insight with accuracy, honesty, and compassion and you've got the idea.
COST: $250 for one hour and $325 for two hours
DURATION: one or two hours
FORMAT: via private phone line; sessions may be recorded upon client request.
Learn More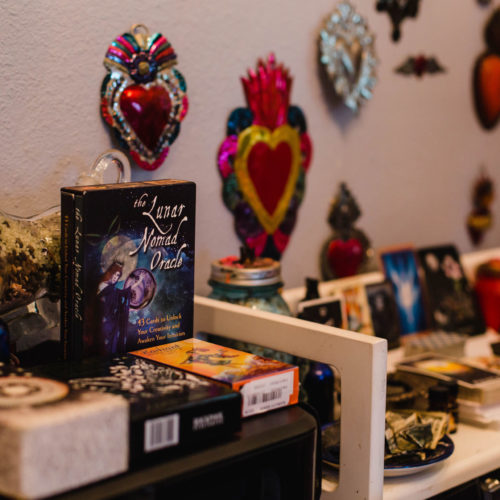 Witch in your Pocket
What would your life be like if you had a witch in your pocket working magic on your behalf every single month?
That was the question that gave birth to a Witch In Your Pocket.
The answers? Nothing short of incredible…marriages that seemed impossible to manifest, better jobs, increased vitality and health, more money, and of course, most important to me, a deeper and longer term relationship to your own special magic.
WHAT: A monthly magical retainer service running throughout 2021
WHEN: Begins January 2021
PRICE: $1000/month with a 12 month commitment – payment plans are available.
DEADLINE TO APPLY: December 15th
Learn More
Root and Bone Custom Ceremonies
Magic. Ritual. Ceremony.
You know, the real stuff.
Candles, incense, prayers, and sumptuous altars.
I am very happy to once again offer custom ritual commissions for those of you who wish to imbue your life with a direct and potent infusion of pure magic.
Creating custom rituals and ceremonies is one of the most complex and gorgeous ways to bring so many of the Sacred Arts together.
This is not a journey for the faint of heart, the skeptic, or the person who says that they want transformation…but doesn't really mean it.
This IS a journey for the courageous and creative soul who wants to improve their circumstances, give themselves a magical edge, and go even deeper in their spiritual communion.
Interested to learn if custom ritual work is a good fit for you? Apply today.
COMMISION: $1,000
DURATION: Varies according to situation.
CUSTOM RITUAL AND CEREMONIAL WORK IS CONSIDERED ON A MONTHLY BASIS.
Learn More