Counsel, Direction, Magical Coaching, and Inspiration for Soulful Seekers
You.
Your questions. Your hopes. Your fears. Above all your curiosity.
And Me.
My traditions of divination, magic-making, astrological know-how, and creative journeying techniques.
Together we will make magic happen.
Not wish upon a star and then twirl your fingers for the next three months kind of magic.
No.
Think along the lines of visiting an old witch who lives in the woods (maybe in a chicken-footed house) in order to receive just the right blessing, potion, or enchantment that will kick start significant change and transformation right now and you've got the idea.
Feel along the lines of a tarot or astrology session that delivers rapid insight with accuracy, honesty, and compassion and you've got the idea.
Know that you will be working with a master – someone who has clocked in way more than the requisite 10,000 hours, who has heard every possible case and situation under the sun, and who can find a new and creative approach to pretty much any problem.
Do be willing to experience deep change and transformation from the inside out. Once you start seeing the world as an enchanted place and recognize that you too are magical you won't ever be able to go back.
You've been warned…and invited. Come sit with me and let's see what magic we can make.
To that end, Sacred Arts Sessions are available in hour long client-driven exploratory sessions, allowing us to give in-depth attention to your particular needs.
Sessions may include any and all of the below:
Spiritual counseling
Magical Coaching
Dream analysis and interpretation
Tarot Reading
Astrology Consultation
Teaching of advanced sacred arts techniques
Active imagination journeys
Sacred arts and mystical business advising and coaching
Sacred Arts Sessions Features:
COST: $500 for one hour - SAA students receive 50% off
$1750 FOR 4 QUARTERLY ONE HOUR SESSIONS
DURATION: one hour
FORMAT: via private phone line; sessions may be recorded upon client request.
NOTE: ALL BOOKINGS FOR 2024 ARE NOW FILLED. PLEASE FILL OUT THE INFORMATION BELOW IF YOU WOULD LIKE TO BE PLACED ON THE WAIT LIST.
THANK YOU!
Sacred Arts Sessions Are Currently Sold Out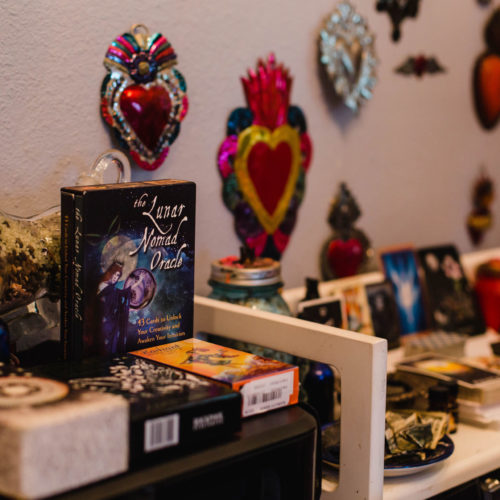 WANT TO BE PLACED ON THE WAITING LIST FOR SACRED ARTS SESSIONS IN 2024?
Please send in your information and let me know what kind of sessions you want (one hour or a bundle) and also when *ideally* you would like to have your session. Cancellations do occur so if I can accommodate you, I will.