Custom Devotional Candle Settings
Featured Candle: In Guad We Trust!
Our Lady of Guadalupe appeared in Mexico City in 1531 to an indigenous man known to Spanish and English speakers as Juan Diego but known in his own tribal tongue as Cuauhtlatoatzin – which translates to something like "Talking Eagle".
Guadalupe is variously understood as the New World Blessed Virgin Mary, as a Catholic overlay of Tonantzin, the Nuahatl Goddess of life, fertility, and mothers, and as the patron Saint of Mexico. I understand her to be all of this and more. Having lived almost all of my life in "Guadalupe country" here is what I can tell you about Her:
Litany for Guadalupe
Wherever there is a need for nurturing, mothering, calming, nourishment – there She is.
Wherever there is a need for healing, soothing, anointing and blessing – there She is.
Wherever new mothers, new fathers, and children of all ages need care and support – there She is.
Wherever there is loss, sadness, gaping holes full of the howling winds of grief and sorrow – there She is.
Wherever there is joy, laughter, good food, families gathering, friends speaking, old ones remembering – there She is.
Wherever there is rich black dirt, red roses, chile, cinnamon, chocolate, bread – there She is.
Wherever Death has come, unbidden, unasked for, unexpected, unwanted – there She is.
Wherever it is the very simple things that are most needed: clean water, clean air, clean food – there She is.
Wherever creatures, any creatures, are harmed and then helped – there She is.
Wherever there is trying, working, struggling, failing, getting back up again, victory – there She is.
Wherever there is heartfelt prayer in voice, body, gesture, art making of all kinds – there She is.
Wherever there is storytelling, remembering, recollecting what matters most – there She is.
Wherever there is art, creativity of all kinds, carrying beauty from soul to world – there She is.
Wherever there is seeking for fairness, justice, and truth – there She is.
Wherever there are those who feel unseen, unheard, unwanted, disregarded – there She is.
Wherever there is quiet, silence, stillness – there She is.
Wherever there are blessings waiting in broken places – there She is.
Wherever there is a scarred and sacred heart, pierced and bleeding – there She is.
Wherever we are told She is not supposed to be/go, whomever we are taught are not as deserving or worthy of Her most blessed presence – She is especially in those places and with those people, (Our Lady does not much care for "rules".)
Wherever there is love, and there is love everywhere, there She is.
This devotional candle is dressed with Rose Absolute in honor of our lady of the Roses, she who knows the sharpness of thorn and the softness of the petal.
If you wish to participate in our FREE Feast Day honor La Señora, you may do so here.
Upon ordering a devotional candle, you will be directed to fill out a petition, this is then attached to the candle and the candles will all be lit on Thanksgiving morning and left to burn without interruption.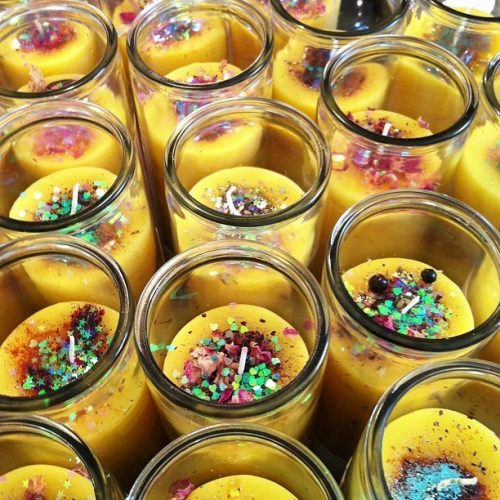 Features:
A custom devotional candle, blessed, dressed, and set to light in my candle house for your specific petition, prayer, or intention.
Candles are magical.
From the striking of the match and the lighting of the wick, to the incandescent glow of flame casting light on hope, faith, reverence, dreams, and all that we hold dear — candles point the way.
And we know that as the candles burn our intentions are heard and the obstacles barring our path fall away like so much melted wax.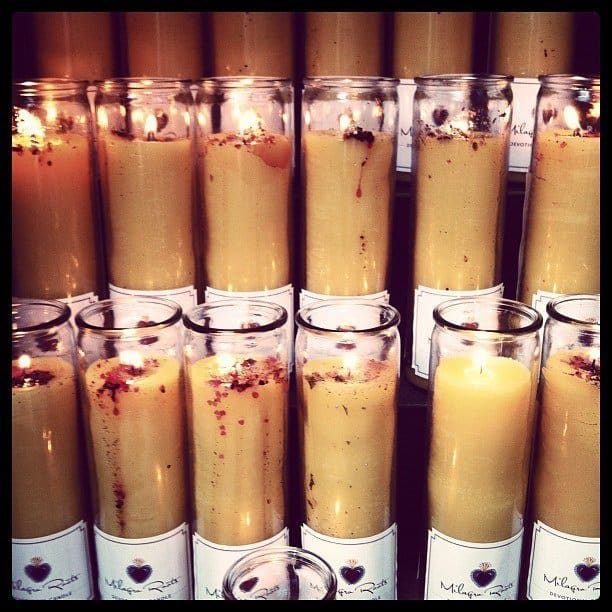 How it Works
Your candle will be dressed, blessed, and set alight in my custom candle houses. My candles typically take between 8 – 10 days to burn out. Due to the number of candles that I set, I do not send out reports UNLESS something strange happens with your candle – in which case you will hear from me.
Traditionally devotional candles are lit for a wide variety of purposes including:
Prosperity: for individuals, families, homes, and businesses
Blessing: of homes or spaces, individuals, new children, animals, land, and creative or business ventures
Matters of the Heart: including love and marriage, reconciliation, and drawing the right partner to your side
Healing: of body, mind, or spirit as well as healing of a specific place or land, or beloved animals
I also sometimes create a FEATURE candle when the mood strikes. You may purchase the feature candle here and simply check the box on the order form that indicates you want the feature candle.