Custom Devotional Candle Settings
Featured Candle: Love Spell
Valentine's Day.
The words bring up conflicting feelings in so many of us, as does the subject of love, generally speaking.
But celebrations on this day are quite old, ancient in fact, and carried heft and weight long before Hallmark came into the picture.
The day was first honored as a series of days, the 15th – 18th of February, in the Roman Empire. These feast days were known as Lupercalia, sacred to the Goddess Juno and the God Pan. Lupercalia was not about erotic love between people. If anything, it was about the erotica of the land itself as it started to wake up to the first hints of Spring. These feast days were about purifying and waking up. Whips were used to asperge the land and individuals as well as to lightly whip people into wakefulness after the long slumber of Winter. There is evidence that people donned the sacred goat horns of the God pan, ran around, caused mischief and caroused as they woke up their bodies and their blood and sent out intentions for good health (including good sexual health) for the coming year.
So, there is a briskness to this day. An invitation to wake up, to return to wakefulness, to take care of yourself and to bless yourself…and the land where you live…with health and vitality for the coming year.
Then, there is the source of the name of our modern holiday/holy day, the martyr St. Valentine who was Christian in a time when it was deadly to be one. The Saint seems to have had something of the romantic in him…he was known for performing marriages for people who legally were not allowed to wed one another, and he was also known for performing marriages that allowed men to get out of conscripted military service. This draft dodging, illegal wedding performing, priest was put to death for his actions and beliefs but his legacy lived on in the form of this day which centered not romantic love, but the love of the Divine for all Creation…a love that, as legend goes, St. Valentine made tangible in the form of paper hearts…the ancestors to today's Valentine Day cards.
It was later, under the influence of Chaucer, that the day became synonymous with romantic love…and even as it has, it has still not lost all of its original root stock because in many European countries rituals around Valentine's Day also honor the soon to come Spring.
When I reflect on the different layers to this one holy day what I see is that Valentine's Day is actually a day for many different kinds of love.
It is a day to honor your love of the land and the care you have for yourself and your precious body and health.
It is a day to honor love that has been marginalized or forbidden or made illegal.
It is a day to honor love that triumphs over war.
And it is a day to honor romantic love and the love that flows through all of Creation.
It is a day to honor all of these.
So, it is a day for you no matter what your relationship status may be.
Valentine's Day belongs to all of us.
This devotional candle is dressed with scents, oils, and materia calling to mind: the first strawberries of the season, the steady beating of a constant heart, dark, milk, and white chocolates, and a river of roses.
If you wish to participate in our FREE Valentine's Day Feast Day ceremony, you may do so here.
Upon ordering a devotional candle, you will be directed to fill out a petition.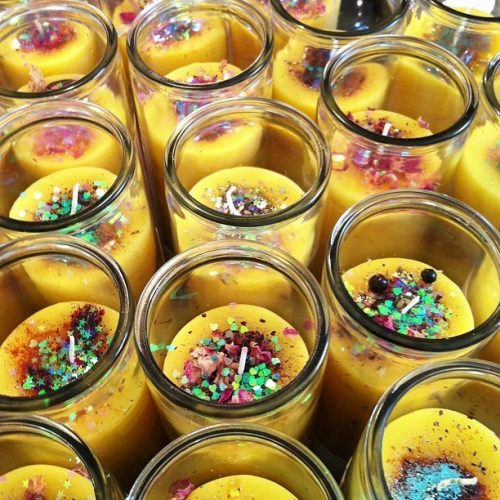 Features:
A custom devotional candle, blessed, dressed, and set to light in my candle house for your specific petition, prayer, or intention.
Candles are magical.
From the striking of the match and the lighting of the wick, to the incandescent glow of flame casting light on hope, faith, reverence, dreams, and all that we hold dear — candles point the way.
And we know that as the candles burn our intentions are heard and the obstacles barring our path fall away like so much melted wax.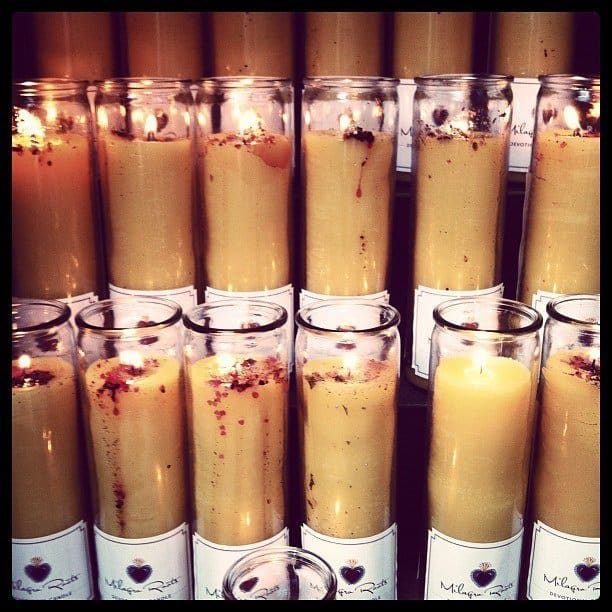 How it Works
Your candle will be dressed, blessed, and set alight in my custom candle houses. My candles typically take between 8 – 10 days to burn out. Due to the number of candles that I set, I do not send out reports UNLESS something strange happens with your candle – in which case you will hear from me.
Traditionally devotional candles are lit for a wide variety of purposes including:
Prosperity: for individuals, families, homes, and businesses
Blessing: of homes or spaces, individuals, new children, animals, land, and creative or business ventures
Matters of the Heart: including love and marriage, reconciliation, and drawing the right partner to your side
Healing: of body, mind, or spirit as well as healing of a specific place or land, or beloved animals
I also sometimes create a FEATURE candle when the mood strikes. You may purchase the feature candle here and simply check the box on the order form that indicates you want the feature candle.