Reading the Cards is only the Beginning…

Have you ever read the Tarot cards for yourself or someone else and wondered…what's next? What do I actually DO with this information?
Or, have you ever wanted to make magic for yourself or someone else but wished that you knew precisely what kind of magic would be best suited to a given situation?
If your answer to either question is YES, then you are ready for Diagnostic Tarot.
I wouldn't say that Diagnostic Tarot is the ONLY way to read the cards…there are many approaches to the Sacred Art of Tarot that are useful.
But I would say Diagnostic Tarot is the BEST way to read the cards. It is definitely one of the oldest. The premise of Diagnostic Tarot – a workshop that I started teaching over a decade ago! – is simple: Tarot is meant to be a starting point, not an ending.
To put it another way: Tarot helps you ask better questions and answer them more clearly.
But asking and answering questions is only the beginning. The sacred art of reading Tarot is directly tied to the Sacred Art of making magic…and in this workshop I am going to teach you how to read the cards AND create magic from what they tell you.
Magic and Tarot Were Made for Each Other, Literally.



There are many ideas about where the Tarot came from and what the official origin story is…but one thing we know for sure? Magic and Tarot were developed hand in hand. Each Tarot card holds specific, diagnostic information that can tell the seasoned reader what kind of magical intervention or remediation is most appropriate for a given situation.
Witches, root workers, and healers of old have always known this. One of the core purposes of divination is not just to receive information, but to receive a diagnosis on a certain situation and then the magical medicines that can be most effective in treating the condition.
Tarot is more popular than ever before, and magic making is not far behind. But the art of reading Tarot cards in a diagnostic fashion…with an eye to making ritual and ceremony with the information you receive, is still regarded by many as "secret."
The Real Secret is…

that reading in a diagnostic manner makes you a better Tarot reader and a better magic-maker too. If you are ready to take your Tarot readings and/or your magic-making to the next level, then you are ready for Diagnostic Tarot.

Kiss Me Again and When Are You Expecting? – Reading for Love, Romance, Sex, Marriage, and Family

This workshop includes:
Deep Dives into Reading Tarot and Making Magic for A number of real-life scenarios.

Q and A with Bri
Approaches to reading Tarot

Magical Ritual and Ceremonial Suggestions

Rituals and Recipes
A gorgeous companion workbook that is yours to keep!
Love Tarot?

Love Magic?
Want to learn more about Tarot?
Want to learn more about Magic?
Want to read Tarot + Make Magic professionally?
♛
If you answer YES to any of these questions then this workshop is for you!
♛
Participants in Diagnostic Tarot can be readers of any level – beginning, intermediate, or advanced. Likewise, participants in Diagnostic Tarot can be magic makers of any level – beginning, intermediate, or advanced.
If you want to learn how to not just read the cards but understand what they are telling you to do on a magical level…then you will love this workshop.
About the Teacher
Briana Saussy started playing with her first Tarot deck (well, her mom's Tarot deck to be precise) when she was three years old. She is a best-selling author, teacher, and Sacred Artist who has been professionally reading Tarot and creating ritual and ceremony for others since she was 16.

As a Sacred Artist, Briana's clients include New York Times best-selling authors, business leaders, award-winning artists, authors, entrepreneurs, yoga teachers, and business coaches.
Briana's work speaks to anyone who is looking for range and comprehensiveness of vision, which is required for a genuinely pragmatic approach to spirituality.
She is well-grounded in the world's great religious and intellectual traditions, as well as western psychological practices.
Bri holds a B.A. and M.A. in Eastern and Western classics, philosophy, mathematics and science from St. John's College (Annapolis and Santa Fe), and is a student of Ancient Greek and Sanskrit.
She has also trained at the Cross-Cultural Institute founded by Dr. Clarissa Pinkola Estés Reyes.
In her teaching, Briana is noted for a practical, grounded, and supportive approach to the mystical and magical while also invoking the depth and range of story, myth, and folk traditions from around the world. Briana is the founder of the Sacred Arts Academy Training Program, the first of its kind and only of its kind four year comprehensive training in the Sacred Arts.
Additionally, Briana has contributed to more than 7 books, including her two titles: Making Magic: Weaving Together the Everyday and the Extraordinary as well as Star Child: Joyful Parenting Through Astrology.
Briana's work has been featured in the Paris Review, Yoga Journal, Mind Body Green, The Mountain Astrologer, Energy Magazine, Watkins Mind Body Spirit magazine, and the Association of Independent Readers and Rootworkers. She is a regular contributor to Enchanted Living magazine.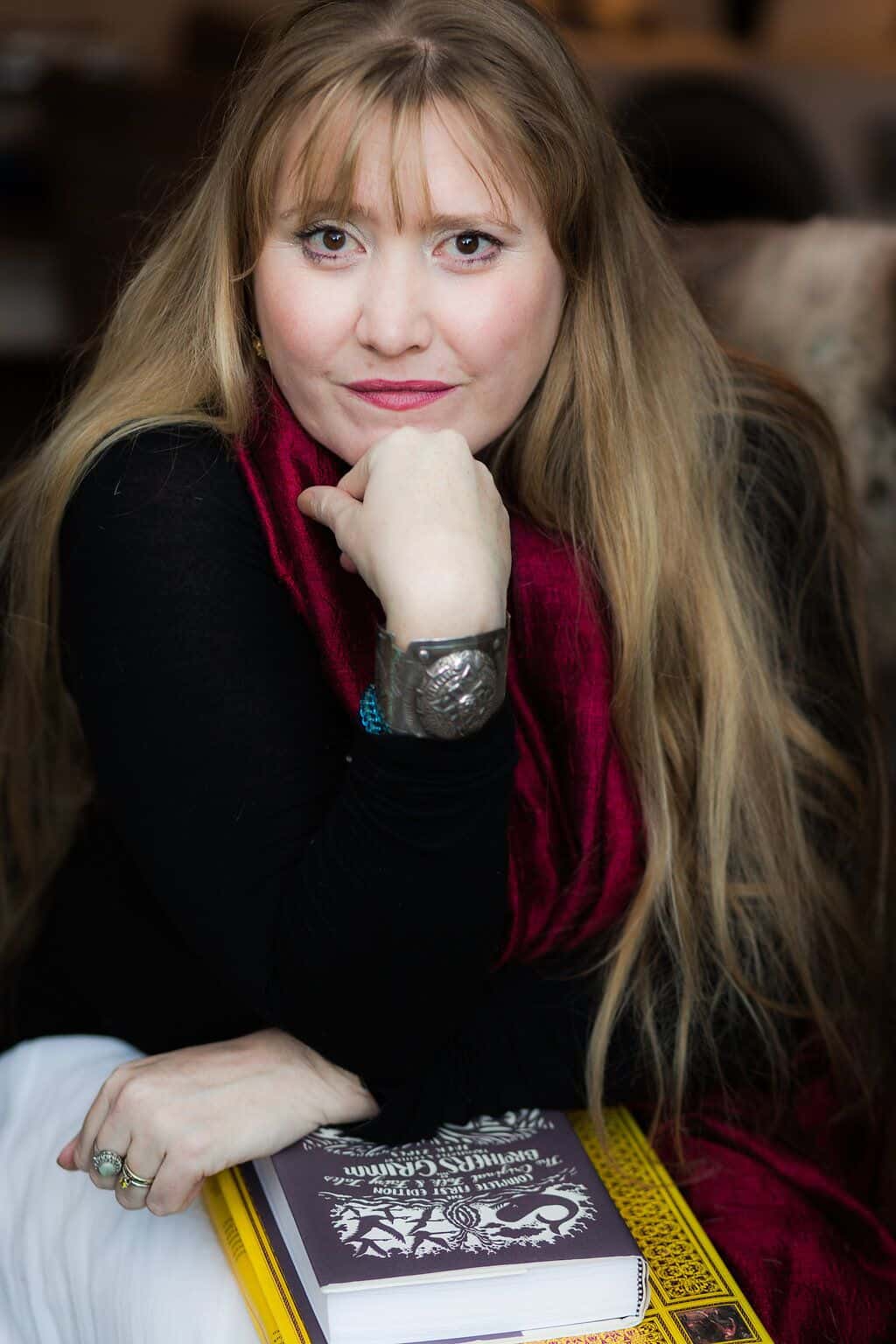 ♛ I want to come but the dates don't work for me. I won't be able to attend the live Zoom sessions. Can I sign up anyway? Can I watch Zoom recordings later when it's convenient for my schedule?
Yes! All Zoom sessions will be recorded. All participants receive the recordings, so you can watch anytime that's convenient for you. 
♛ Is there any prep work I can do in the meantime while I wait for the workshop? I want to get started right now!
Once you register you will be directed to a page that has optional but recommended preparation work.
♛ Will this workshop teach me the skills I need to professionally read and create magic for other people?

Yes it will!

♛ I'm really excited about receiving the workbook that goes along with the class…when does that come out?
You will receive the workbook on September 12th, the first day of our workshop.
♛ I'm excited about submitting a question for Bri to answer. Will every workshop participant get their question answered? Or just a few?
Every one will have their question answered. Part of your (optional) pre-work will be to send in a question you would like Bri to answer during the workshop.
♛ I don't live in the US. Can I attend this workshop?
Yes, you can! This is happening virtually over Zoom so attend from any part of the world!
♛ Can I buy a workshop ticket for somebody else? Such as: my mom, sister, grandmother, daughter, aunt, or bestie?
Of course. Purchase as you normally would and then email [email protected] to let Bri know who the ticket is actually for. Please include the individual's name and their email address.
♛ What is the cancellation policy?
If you can't attend the workshop due to a medical emergency, you may transfer your ticket to another workshop happening later in 2023 or 2024. Alternately, you can watch the workshop recordings whenever it is convenient for your schedule.
♛ Do I need to be on facebook, instagram, mighty networks, or some other virtual place to participate in this workshop?
No. All workshop materials are hosted at Bri's website (brianasaussy.com) and there is no forum or outside group you need to join. The workshop itself will be taught over zoom.
♛ I have a question that I don't see answered here….help?
Sure! Email [email protected] to get the help you need!
"I loved learning how to read the tarot cards from a ritualistic standpoint, and getting suggestions on different rituals to use. The class felt very intimate and you don't really see that with a lot of other programs. Students can get buried in so many people piping in on the call, where their own questions are never answered. Also, so many other online classes allow the students to all be open mic, so you get all of this background noise and people talking, which can be distracting to hearing the lecture. So, I really enjoyed how everyone was on mute until the Q+A portions. It kept it professional and clean but most of all an enjoyable listening and learning experience."
–Zuri E.
"My experience far exceeded my expectations (and I was expecting a lot coming from you, Bri). Issuing the workbook out a few days in advance, as well as having the syllabus published beforehand, were extremely helpful because I am someone who likes to know in advance what will be presented. That way I can chew on the material a little, formulate questions, make notes, etc… and listen with intent once the material is lectured on. The format of the live calls was great and it is so appreciated that you mute everyone during lectures so that there are no distractions. I've printed out my workbook because it is such a wealth of information and I know I will be returning to it over and over (as well as the notes that I took). And the recordings – there are probably still more notes I could take! I know I will be listening to those again, too. But I absolutely walked away with a solid foundation in how tarot can be used to guide ritual."
–Christine H.
"I loved Diagnostic Tarot! I love this structure for the class because Bri's voice is extremely pleasant to listen to: no nodding off during lecture here! There was a beautiful balance between question time and lecture time, and I especially appreciated that we had question/sharing time both at the beginning and end of class: it meant that question time didn't drag on too long at any given time. The workbook was very clear and well-structured too. I especially appreciated for Further Development Tasks, and the evergreen quality: I can tell this is a resource I will continue to consult for years to come."
–Paige Z.
"I love the flexibility of the format: attend the class if you can, if you can't, well then there's a recording to listen to at your leisure and a gorgeous PDF stuffed full of information. Plus you kept sending us extra goodies like recordings of questions you had answered, or pointing us towards other articles you had written. What's not to like?"
–Sheena P.
"Loved loved loved the way you broke down the cards plus looking at the pictures as clues for what steps we should take. I loved reading the workbook and hearing what you added in the lecture."
–Raquel B.
"The lessons were very good, I particularly enjoyed that you used the material in the workbook as a touchstone–you didn't recite the textbook during the lesson. Hooray! I love classes that actually, y'know, have stuff to take notes on, not just highlighting phrases in the book. I'm very grateful to you for that. I'm glad you covered jinxes & curses, it disappoints me whenever ritualists that I respect are too afraid to "go there" (we all know it happens, might as well know how to combat it)."
–Zola
"I absolutely loved this class, Bri. It gave me a new and very useful, immediate way to utilize the Tarot, plus I got a bucketload of new insight and inspiration for my ritual work. COMPLETE WIN."
–Jennifer L.
"I loved just about everything! The classes covered a lot of material, and the pdfs reiterated and expanded on all the points so that I could study them any time. I also loved how packed they were with extra links and information. I LOVE extra links and information! They were a pretty special treat because you managed to back up all of your information with practical and actionable articles and magical recipes. I really appreciate your up front, down to earth eclectic approach, and the fact that you are so generous with your knowledge. Even though it seems like every time you say something, I realize how much I have to learn, the way you put it makes me absolutely certain that I am capable of doing so."
–Elle V.
"I really loved the entire concept of the class. This has been something I was planning on incorporating into my practice and it's awesome that you did a class on exactly what I was thinking. How to incorporate candles, baths, powders, etc…so empowering and such rich history and folklore. I love love…so love was one of my favorite classes but abundance and healing were in the top three. I did like that we switched gears on how we reviewed the cards part of the way through as well."
–Kara L.