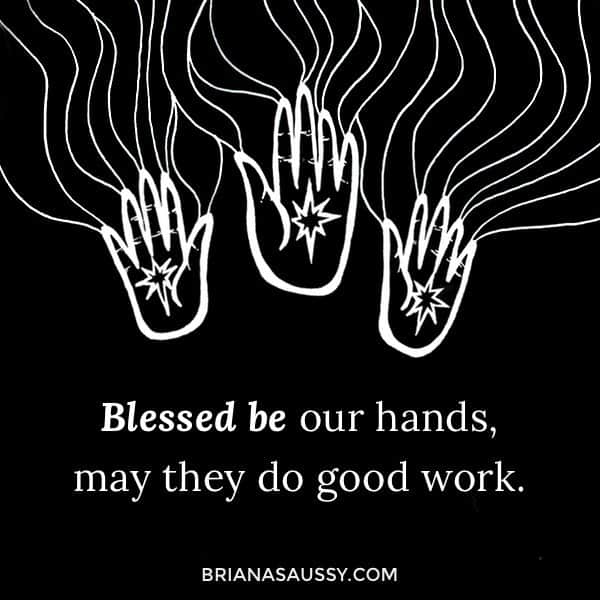 D
ear Miracles ~
The New Moon is in Virgo, which, among other things, guides how we create structures. One of the questions I am most frequently asked is how do I do everything that I do and still stay sane. Alas there is no one silver bullet solution that will work for everyone but here is how things work backstage at brianasaussy.com.
Slack – my team uses slack for all of our communication, which cuts down massively on emails. I love it because we can upload documents and images to share, create unique channels that are specific to our task list, and integrate it with tools like Zapier which is used to track sales and all kinds of other data points. Slack is amazing. After using all kinds of other project management platforms this is the one we love the best.
Calendly – when I switched my booking process over to Calendly I had so many of my clients email me and tell me that they were beyond the moon appreciative. Calendly is an elegant, simple, scheduling system that is beyond her friendly.
Aweber – all emails, all the time. Aweber is the service I use to keep my email lists organized, protected, and growing.
Evernote – I use Evernote to work with students, to keep track of all of my posts in canto, to write quickly to do lists and to store form letters, and that is really just the tip of the Evernote iceberg. Easy to share, include people in folders so that they have access to specific documents, upload images, voice recordings, and with their suite of features like Pocket, I also have a continually growing archive of articles and images that are related to my work.
WordPress – Best website platform hands down.
Dropbox – We use Dropbox to store, send, and communally access and edit all kinds of files.
Audio Acrobat – Complete web-based storage and audio recording services.
Hootesuite – Best interface we have found for seeing and scheduling various social media shout outs.
Pinterest – I LOVE Pinterest and use it to track the people, places, and things that inspire me. I also store public domain images in Pinterest that I might use for canto posts or lunar letters and we have several community boards for students in my various programs.
Spotify – Music is essential in doing my best work. Sometimes I like absolute silence but when I don't I go to one of my Spotify playlists.
People
David Saussy is my beloved, my best friend, and my collaborator on everything from child-rearing and home repairs to creating courses, customer service, and bringing the magic to life. David and I also work together for our tiny, not for profit, Symposium Great Books Institute.
Cassandra Oswald is the tech and design wizard and my right-hand woman. She graces my website with her black, white and color illustrations and keeps all of my design and code up to date and looking spiffy. She and I also collaborated on the daily blessing series.
Nathan Briggs is the web host with the most. He keeps my site up and running smoothly, always adds the latest and most useful bells and whistles to our platform (without me ever having to ask) and if things go awry for some reason I just contact him and he gets back to me asap every single time.
Fabeku Fatunmise dear friend and phenomenal business advisor. I'm a groupie and I'm not ashamed to admit it!
Theresa Reed aka The Tarot Lady is my masterminding companion, an amazing friend, a partner in Talking Shop, and so much more. She is also the one I go to when I need a Tarot reading and I LOVE her Entrepreneurcasts.
Heidi Rose Robbins writes beautiful poetry and knows how to read the stars. I go to her several times a year to have my astrological check-in and she delivers each and every time with practical and actionable information that is nevertheless soulful and full of heart.
Aidan Wachter is a very, very, gifted talisman maker. Talismans are an essential part of my business and I am so grateful to Aidan for helping me keep my mojo up in style!
Jason Miller is an incredibly gifted, down to earth yet super smart, and most importantly, results-oriented magic-maker. Whenever I find myself in need of ceremonial support I head straight over to his site. His work works and the man knows how to show up.
Jessica Reagan Salzman runs Heart-Based bookkeeping. We started working with Jessica this year and…MIND BLOWN! She has brought so much clarity to our numbers, calmness to our tax season, and has given us the tools to make more conscious decisions that support our business and our lives. If you run a small business and the ideas of balance sheets and PnL's make your head spin, you need to visit with Jessica, asap.
There are two other groups that make my work hum, sing, and dance. They have dedicated souls who work with me for at least a year and often for much longer. They ARE the Sacred Arts community and they teach me more about what really matters than I will ever teach them. They are my: Miracle Tree students and Spinning Gold students.
Happy New Moon Magic Making!