t is springtime here in the Northern Hemisphere and with both the Equinox and Easter right around the corner my social media feeds are filled with charming pastoral scenes of chicks and rabbits and lambs…but the mighty ram is there too just waiting for its moment.
Luckily the wait is over! Join us in getting to know the one and only Aries.
Aries is the 1st sign in the zodiacal wheel, marking the beginning of the Astrological New Year. This sign is attuned to the element of Fire and is a cardinal sign. The Sun is in Aries from March 20th (Vernal/Autumnal Equinox) through April 19th. Cardinal signs always represent leadership and the purest expression of certain virtues; for Aries and all of the Fire signs, this is symbolized by its arrival at the turning of the Equinox where Winter finally and officially gives way to Spring (in the Northern hemisphere) and Summer gives way to Autumn (in the Southern). Represented by the Ram and specifically the Ram bearing the golden fleece who was both hero and sacrificial victim, Aries combines bravery and adventure with a desire to protect, as well as a powerful will. Aries is fun loving, courageous, and at its best willing to not only protect but lay its life on the line in service to others.
Ram as Aries: By Briana Saussy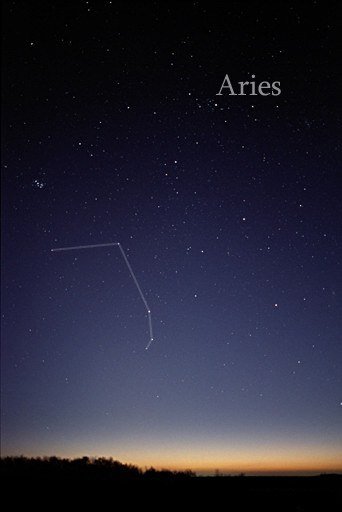 Although the sign Aries is ruled by the planet Mars and often associated with the Greek God of War by the same name, Aries is not all war making, weapon swinging, and bluster.
In fact, the constellation Aries has less to do with war and a martial aspect and much more to do with daring rescue attempts, sacrifices, and the ancient and deeply honored work of the Shepherd. Before we get to that though, let's take a moment to see how truly old this story is.
Like many of our other constellations, Aries and its association with the Ram is very old but before Aries was the Ram itself, it was a Shepherd.
This was true for the Babylonians who recognized the same cluster of stars forming our modern Aries constellation and referred to it as "The Agrarian Worker" or the "Hired Man" as well as for the Egyptians who associated the constellation with the great God Amon-Ra, a male figure depicted with a Ram's head.
In our less agrarian place and time, it might be difficult to recognize how essential shepherds were to the community but they were, and they still are.
Shepherds and others who took on the role of cultivating, domesticating, and protecting livestock from natural predators exerted a strong civilizing influence on early societies. Paradoxically, Shepherds themselves are often depicted as only part tame and part wild – it does take a special kind of soul to be outside 24 hours a day, 7 days a week in all kinds of weather accompanied only by the animals he is charged with caring for. For these reasons, the figures in both Babylon and Egypt associated with Aries are also associated with fertility, protection, and the running current of the life force itself.
It is in the image of the Shepherd that we find our first real glimpse into some of the defining characteristics of the zodiac sign Aries, specifically we find that Aries is associated with a strong protective impulse. This can at first be surprising because typically Aries is seen as martial and more and more the martial and the protective have been separated in a common culture. But the truth is more complicated and often the individuals who are most likely to be heroes are motivated by a desire to assist and help those who cannot help themselves, as well as to protect the weak and innocent. Aries, like its opposing sign Libra, is more concerned with justice than many people think.
By the time the ancient Greeks were spinning their stories with the stars, the role of the Shepherd was taken over by that of the Ram, but it wasn't any Ram; it was the Ram of the legendary golden fleece that Jason of the Argonauts would later pursue and steal with the aid of his witch wife Medea.
The story begins with a curse. There was an evil stepmother who was envious of her husband's two firstborn children – a young girl and a young boy. She cursed the land where the family lived with a great famine so that everyone was hungry and then created a false oracle from the Oracle at Delphi, claiming that the only way to break the curse was for the King, her husband, to kill his son.
This part of the tale clues us into one of Aries' weak points – an easily inflated ego that wishes to "kill" off any psychic offspring that might also have a share of power, and a tendency towards envy when all is not as it should be.
The King was indeed ready to sacrifice his son and in a story that sounds eerily familiar to those raised in any Biblical traditions, he was at the point of spilling his son's blood when a magical Ram appeared.
This aspect of the story speaks to another potential weak point of Aries – leaping before looking or proceeding straight ahead without having all of the information.
The Ram of the Golden Fleece appeared in order to rescue the boy and his sister after being asked to do so by the swift-footed God of the crossroads, Hermes (Mercury in Roman times). The sacrifice of an innocent child was stopped and both the young girl and young boy got on the back of the ram who then flew through the sky.
Here we see one of the most positive aspects of Aries, for this is the sign for whom the concept of "impossible" is not real or relevant. Rams flying across the sky and over the ocean? Something that's never been done or even attempted before? Aries is not only interested in what others consider mere fantasy, it is bound and determined to defy a narrow concept of reality and bring the impossible to life.
During the flight, the young girl tumbled to her death but the young boy made it safely into the mysterious and magical land of Colchis. Once he arrived he sacrificed the Ram of the Golden Fleece as thanks offering to Zeus (under instruction from Hermes to do so) and then offered the Golden Fleece to the local King who in turn gave him his daughter to wed.
Several more essential qualities of Aries come out at this point in the tale. The first is that Aries, though a cardinal sign, has more of a liminal quality to it than is often understood. The obviously liminal signs like Scorpio or say, Pisces, have their own otherworldly presence but Aries does too – especially in terms of physicality and the body. There is an intuitive understanding of the body and the ways that the physical body can be worked with to achieve great feats that are particular to Aries.
We also see clearly in this part of the tale Aries' willingness to sacrifice itself for the greater good. Many modern astrologers talk about the "selfishness" of Aries and miss out on the obvious fact that the opposite is also quite true: this sign can engage in acts of utter selflessness when the situation requires it.
Finally, we see the dance between risk and reward that is also a deep part of Aries story; here is a young boy who is about to be sacrificed only to go on a great (and terrifying) adventure, wherein he loses his sister, loses the one animal companion he has, and gains a wife and a crown. Another intuitive aspect of Aries is their understanding that without risk there can be no real reward.
The golden fleece was placed in a holy shrine and, as mentioned above, its story continues long after this cast of characters were deep in the earth. This speaks to yet another quality of Aries. As the first sign of the zodiac, the Ram is concerned with impressions – making them and leaving them. Given the central role that the Golden Fleece plays in some of the most beloved epic stories from antiquity, I would say that our Ram accomplished exactly that.
Ram As Animal: By Sara Magnson
The Ram is a mighty and peculiar creature.
For all the power and force associated with these animals, though, it's easy to forget that Rams are Sheep.
This is important to note because the word Sheep has developed a negative connotation in colloquial speech, meaning someone who is a mindless follower; however, as we have seen from the mythology and astrology, Aries the Ram is anything but. How and why do we perceive the Ram as somehow different from the Sheep? First, let's look at what all Sheep have in common.
The physical form of Sheep is nimble, agile, and sure-footed. They trust the ability of their unlikely bodies, with thick torsos and spindly legs, to jump and maintain balance when other creatures would doubt themselves. They see in color, have excellent peripheral vision, and Bighorn Sheep in particular (a different species than typical "farm Sheep") have excellent depth perception, which allows them to literally see and take chances that others may not.
As a prey animal, all Sheep have incredibly good senses of hearing and smell. Taste is also an important sensory aspect and, as herbivores, grazers, and foragers, Sheep exhibit clear preferences toward different foods. As ruminant animals, their four-chambered stomachs are built to extract a high amount of nutrients from their plant-based diets.
Sheep are inquisitive animals and, like the sign of Aries, have the ability to discover and seize the opportunity in seemingly impossible situations. We can also all take a cue from Sheep's highly efficient digestive system to be very deliberate when working with the things that fuel us, making sure we're getting all we can out of them.
The skin and fleece of Sheep have been revered for ages – hides and wool to create objects from the practical and mundane to the magnificent and magical. When thinking of Sheep's hide, remember that skin is considered an organ and is, in fact, the largest organ of the body. Protecting all the delicate things inside, the skin is essentially a huge sensor packed with nerves and keeps our brain in touch with the outside world. The majestic fleece of Sheep, like our own hair, is directly connected to their skin and provides an intense sensitivity, as well as protection from the elements, allowing them to thrive in diverse climates and environments. It is this protective and armor-like quality of Sheep's fleece that contributes to its many magical qualities.
Socially, Sheep desire order and prefer a defined structure, establishing who is in charge and how each member of their social group falls in rank. They are gregarious and form strong, close, relationship sub-groups within their flock.
Sheep are more intelligent and sensitive than we often think, having a good memory and the ability to differentiate facial expressions and the emotional states of other animals, including humans.
Sheep are also very good at hiding any injury or sickness so as not to appear weak, which can be good for avoiding predators looking for an easy meal.
These social traits are exhibited in the influence of the sign of Aries in many ways. There is the desire for order and structure; the ability to see more than others think you do, and definitely more than you let on; and the tendency to hide weakness when you could be asking for help. As previously mentioned, Sheep are inquisitive animals and, no matter the current interpretation of the word can be brave and courageous. They are willing to break through barriers (literally and figuratively) and face uncharted territory to seek a better life.
Sheep have a long history with humans, being one of the earliest animals to be domesticated, and, as we have learned, there is an entire vocation dedicated to caring for Sheep. The word "Shepherd" derives plainly from Old English – shep/sheep and herd, literally someone who watches over the Sheep. These animals provide us with food in the form of meat and milk (and cheese, my favorite!), and hide, sinew, and fleece for clothing and comfort.
To talk specifically about the Ram, versus Sheep in general, we must discuss some topics of gender and gender roles because Rams are biologically the males of the species. This is also the area where we discover why we perceive the Ram as somehow different from Sheep.
First of all, it is the Rams who possess the magnificent horns. Ewes of different breeds can have horns, but they are much smaller. Without getting into a separate discussion on the various ways gender may be expressed in animals, let us talk about how it is most commonly expressed in Sheep. The males have bigger horns because they are the protectors of the flock and they use them to intimidate and to fight. Horns are impressive structures, no matter what animal they come from or if they are male or female. The horns of Rams in particular are in the shape of the Sacred Spiral, adding even more depth to their magical associations. They are borne directly from the head, just as our hair grows, and indicate potent creativity and mental acuity.
When we examine the Ram associated with Aries and the mythology surrounding it all, it is very male-centered. Aries is identified with typically male traits – the Sun, war, aggressiveness, etc. In the tale of the Golden Fleece, it is the brother who survives and his sister is the one who doesn't make it to the end. In reality, it is the females of the species Ovis who have unfortunately inspired the suggestion that "sheep" means mindless followers and it is the males, the Ram, that evokes power, agility, and intellectual fortitude. I argue, however, the nature of Aries and the Ram affects all of us, male or female.
I am a straight, cis-gender woman and I am an Aries. I am not on the cusp of anything and am in the dead center of Aries. I can tell you from forty years of personal life experience that the typically-male-leaning undertones of Aries the Ram are something I am constantly working to balance within myself. Like it or not, we all exhibit both male and female tendencies, ways of thinking, emotions, actions, etc., and we are all working to balance and discern those with what our society tells us and demands of us. We all have a strong, powerful Ram within us and we also all have delicate parts and everything in between.
The Ram of Aries asks us to find that aspect of ourselves that is unafraid, that is bold and daring, that is sensitive and nimble, and to trust and encourage its instinct. When you feel nervous, afraid, fearful, worried, and/or in a state of over-analyzing, call on the energy of Ram to connect you with a very specific part of yourself, a part that we all have. Embrace the surety of purpose that Ram embodies and allow yourself to tap into his bravery.
Call on the Ram When:
You need to take action!
You want to call forth more energy and enthusiasm.
Risk is required.
The protection of others, especially those who are too young, weak, or innocent to care for themselves is needed.
You are called to achieve something daring and great.
You want to come into a deeper, more intuitive relationship with your physical body.
You have to fight or enter into conflicts.
You want to be a hero/heroine.
You desire to leave a strong and lasting impression.
You want to speak your truth.
You need to start a project.
You are ready to do the impossible.
Be Wary Of
Leaping without Looking – In their quest for adventure and desire to help, sometimes Aries can land itself into sticky situations because they don't get all of the facts, make certain assumptions, and dive fully into troubled waters.
Bossiness – From one cardinal sign to another let's just put it out there – Aries can be bossy, controlling, and utterly convinced that they understand and no one else does.
Jealousy – Aries is drawn to risk but it is also drawn to reward. If they see someone getting more, accomplishing more, or having a greater impact than they do, they can start to feel envious and dwell more on others' successes than on the things that will help them bring their A-game.
Superficiality – The shadow side of leaving impressions is going for quick and easy tricks that, when looked at more deeply, are full of just sound and fury. This most often shows up as a focus on muscles and lipstick as opposed to skill and real talk.
Catching Fire – Aries has a TEMPER. Have you ever seen a real Ram ticked off about something? If so, then you get it. Although the temper here is more like a flash fire – it burns hot and bright and then it is gone and forgotten, it does have the ability to singe anyone who gets too close.
Questions to Ponder:
Aries shows up in everyone's chart – there is no such thing as "I don't have Aries" because it is a cluster of stars in the sky and it is always there. Wherever Aries occurs in your chart these questions will help you get to know it better.
What does being a hero mean to me?
What are the roles courage and bravery play in my life?
How well do I understand and work with my body?
What and who am I willing to lay down my life for?
What kind of impression do I want to make?
What is hard for me to get started with and begin?
What am I willing to guard and protect?
What is the role of risk in my life?
What impossibility do I want to make possible?
Active Imagination Journey:
Cultivate Calmness.
Ground, Center, and Anchor in the ways that feel good and right to you.
See, sense, touch, know, hear, and feel that you are standing at the edge of a great cliff and beyond the cliff is the bright blue sea.
Affirm and acknowledge that you have come to this place at this time to learn a new teaching about your life, one that is gifted to you from the stars, you have come to encounter the Ram.
Acknowledge that it does not matter where Aries occurs in your chart or whether you were born under this Sun sign or not – we all have this constellation present in some portion of our natal chart.
As you are ready, look straight out at the horizon line where the sky meets earth.
See, sense, touch, know, hear, and feel that an object floats just over the horizon line and s slowly becoming larger and larger as it approaches. It seems to glow like the sun and as you narrow your eyes to see it more clearly you find that what is moving towards you is the Golden Fleeced Ram of Aries itself.
Affirm and acknowledge your inner knowing that the Ram is coming for you today, that it is willing, if you are, to take you for a ride into the heavens where you may see your life from a bird's eye perspective.
As the Ram lands softly beside you the invitation is clear: get on board.
See, sense, touch, know, hear, and feel yourself climb onto the strong Ram. Curl your fingers into its soft, gold, fleece, and around its great curling horns.
See, sense, touch, know, hear, and feel that the Ram becomes air born and you are now able to see below. The blue sea witnessed at the beginning of the active imagination has changed and transformed into the terrain of your life, from the moment that you were born and took your first breath to right here and right now.
As you hold onto the Ram's golden fleece, see, sense, touch, know and feel the question that is being asked:
"Where are you willing to take a risk?"
Look down, look down, look down – knowing that you are safe and able to see clearly from this vantage point.
Look down, look down, look down – acknowledging the areas where you have perhaps played it too safe for too long.
Look down, look down, look down – visioning clearly the places where risk is required, an intelligent, brave, but also calculated risk.
Affirm and acknowledge that with the Ram sets you gently down in new terrain, your life after certain risks have been taken and rewards have been granted.
Affirm and acknowledge with the Ram as your guide you can discover not only the best risks to take but the best ways to take them and as you are ready ask Aries, the Ram what it would like you to do with this newfound insight.
Give yourself time to truly listen and enjoy.
When you are ready to depart allow yourself a few final moments to say goodbye and to agree to any promises, oaths, or exchanges that you can in good faith make.
Breathe in a blessing on your body and as you exhale bring your awareness back to the room that you are in. Feel the weight of the air upon your skin and allow yourself to stretch and move in any ways that feel good and nourishing to you.
As a final act, note what the teaching from Aries was to and for you.
Reflect on the message you were given and the task you were asked to do, and then in true Aries fashion, make it happen.
Altar/Ritual
Make space at your altar, or create a new area as you see fit, to show your reverence for Ram. It is possible to procure ethically sourced Ram's horns, but if you cannot or don't want to do that, acquire a piece of wool (and raw, unprocessed wool is even better – ask at your local yarn supplier). Place the horns or wool at the center of your altar space. Surround the horns or wool with a small bowl of water, a plant (a small container of grass is perfect for Ram, but any green plant will work well), and a candle.
Light the candle and place your hands on the horns or wool. As you watch the flame, reflect on the fiery nature of Aries and your ride with Ram. Ask for Ram's essence, courage, and wisdom to guide you and show you the ways to achieve your goals.
After you spend time with Ram at your altar, engage in some kind of physical activity. Do whatever you are physically able and comfortable doing – take a walk or a run, dance around your house, do some gentle stretching, etc. Part of honoring Ram is honoring and acknowledging your own body. Each time you work with Ram take a moment to move and recognize and be thankful for your physical form.
Return to this Ram altar and movement practice whenever you need to reconnect with Fire and with Ram's knowledge and lessons. Make sure you refresh the water periodically and keep the plant healthy and strong. And remember, always observe a common sense of fire safety when burning candles.
About my Co-Author: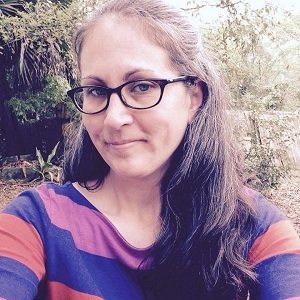 Sara Magnuson was the co-founder of Candlesmoke Chapel, a purveyor of spiritual supplies and provider of various spiritual services that was in business from 2009-2019. Her personal practice is eclectic, animistic, ancestral, and based in the messages of Nature and its role in how we move through this world.