Dear Miracles,
Life is sweet but sometimes it needs to be a little sweeter, yes? So it is that honey jars were born and have become one of the most popular and well-known techniques in folk magic. Today I wanted to share with you both in words and pictures on how to put a honey jar together.
As it turns out, honey jars are not just for tea and biscuits! There is actually a long history of folk magic traditions working with sugar, honey, maple syrup, molasses, simple syrup, and other sweeteners to promote love, kindness, joy, harmony, goodwill, and favored status. The theory is simple enough and a great example of sympathetic and contagious magic: because the primary medium (a sweetener of some kind) is used in a directed manner towards a specific person the intention is that said person will become "sweeter," more kind, tender, loving, and harmonious.
Although "honey jar" is the preferred term, I actually like to use Whole Foods' vegan sugar in my jars. I like sugar because it is less messy than honey, it's easy to take petition papers out and add new papers if the need arises, and sugar is also less expensive than honey. I use vegan sugar which might seem strange until you understand that most sugar is processed through filters made of animal bones (due to the high heat required during the refining process). Vegan sugar is not.
Honey Jars and sweetening bottles are created and worked with for a variety of reasons. Some like to make a jar that represents themselves so that they will be kinder and more loving to all of the people in their lives. Others choose to create a honey jar to mark a marriage or special anniversary and to bless a couple with years of love and tenderness. In other cases, honey jars may be used in a more compelling manner–to make a difficult boss like you better, to encourage a judge or jury to find in your favor, or to persuade your students or clients to work with you and follow your lead. Making honey jars is relatively easy; because of this they have become one of the more popular forms of magic–and because of the materials involved, you can get very creative (or stay simple) in the creation process.
First, you need to write a petition: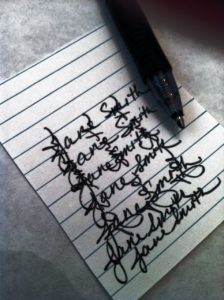 The petition made for a honey jar tends to follow a specific format. First, you will write the name of your target (the person you would like the honey jar to effect), then you will turn the paper 90 degrees and write your name on top of the target's name. If you are doing a honey jar on yourself then you do not have to do this second step.
Some people like to use pencil for the target's name and then a pen or permanent marker for their own name–the idea behind this is that permanent ink is "stronger" than a pencil (which can be erased) and therefore exerts more influence. I personally like a strong ink that I can see well for both names. After the names have been inscribed its time to create a magical circle around them like this: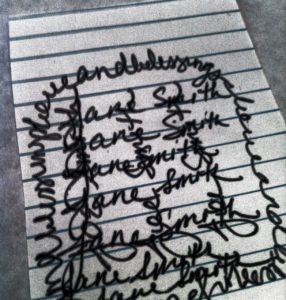 During the writing in a circle around the names, the pen cannot be lifted from the paper and this is why it makes sense to use a short and sweet prayer. In this demo, I used the prayer: "love and blessings" over and over again.
An optional but fun step is to embellish the petition paper: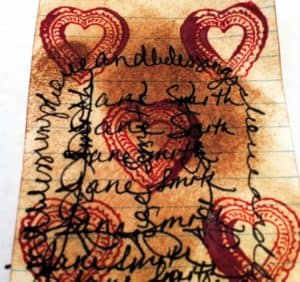 Once the petition is completed you can anoint it with oil and then fold it towards you. Turn the paper 90 degrees and fold it towards yourself again. Now you are ready to add it to the sweetening jar. Different people have different attitudes about the jars themselves. Personally, I like Ball Canning Regular Mouth Half Pint Canning Jars. I like using a regular, inexpensive jar and then embellishing it myself–that is part of the magic! It's also essential to have a metal/heatproof lid if you want to burn candles on the jar.
You will add your sweetening agent be it sugar or honey but then you will also want to add roots, herbs, and curios that are appropriate for whatever situation you are working on. If you do not know the first thing about herb magic, don't worry–I have an Amazon store chock full of my favorite herb books! Once you have added what you want in the way of herbs, roots, and curios your jar will look beautiful and you can tuck the petition right in. Make sure that the petition is totally covered by the contents of the jar. Now in some cases at this point, people like to ask if they can use the sweetening agent that is in the jar and the answer is…it depends on what you put in it!
Obviously, if you used any toxic roots or herbs when making the jar you will not be able to consume the sugar/syrup/honey. However, if you used edible plants (of which there are MANY) you can eat the sweetener and you can also use it in baking, cooking, and beverage making. In fact, one very simple and stripped down honey jar spell involves putting a whole vanilla bean into the family canister of sugar–it is believed that this leads to a happy and peaceful home. The sugar, of course, is used in the day to day doings of the family and its magic extends through use!
At this point, you could stop. These days a lot of people are making sugar jars and then they work them and magically impart their intention onto them by praying over them, stating their desires and shaking them rhythmically. However, some of the oldest honey jar workings do center around a candle and adding a candle to your honey jar is a wonderful way to imbue the magic of fire into your work–and it also can provide you with a great focal point as you pray or charge up the jar.
Choose a candle that resonates with you–many people like to work with specific colors of candles. For the demo, I went with a blue and yellow candle since the jar I was demoing was made for love, communication, and healing. You will want to anoint the candle with a ritual anointing oil appropriate to your situation. Hold the candle at heart level and draw the oil from the base of the candle towards your body. You may also want to dress the candle with ground herbs, ground herbs and magical sachet powder, and of course glitter: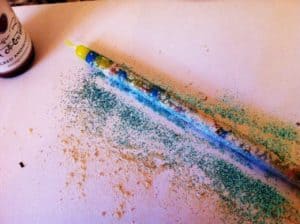 Set the candle on top of the honey jar and it's time to light it!
I consider honey jars an endurance type of ritual work. Typically they are fashioned with the intention of being worked for a long time — at least several months and often for years. The jars are usually set up on an altar or dedicated working space. Candles can be burned on them and they can be prayed over and put to work every day, two or three times a week, or on a monthly basis. Pay attention to the way the wax of the candle melts and the way the flame burns when you are working your honey jar–these are two of the main ways that you will receive confirmation and affirmation that your magic is doing its thing! And remember, when in doubt you can always order a custom-crafted honey jar of your very own.