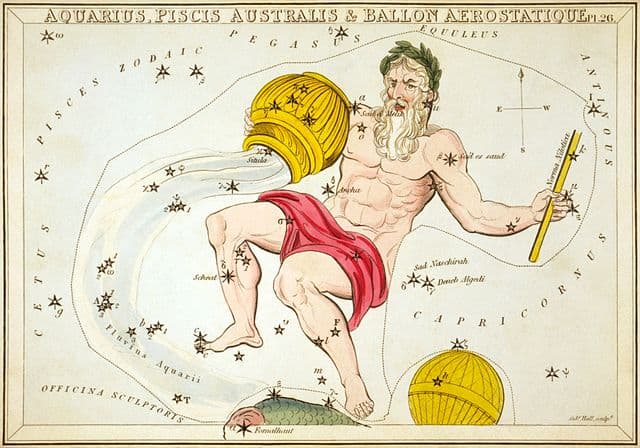 F
rom earthy Capricorn we move into the aerial and aquatic realms ready to stir and shake things up with the one and only Aquarius.
Aquarius is the 11th sign in the zodiacal wheel, attuned to the element of Air and is a fixed sign ruled by Uranus. The Sun is in Aquarius from January 19 through February 18. As an Air sign Aquarius symbolizes our relationship with our intellect, thoughts, and internal struggles as well as our role in our greater communities. In its depiction as the human figure of the Water-Bearer, Aquarius also symbolizes our relationship with emotions and our literal connection with the element of Water.
Water-Bearer as Aquarius: By Briana Saussy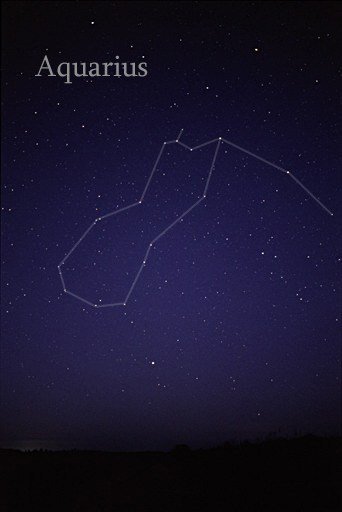 We depart from the mythic creatures we worked with in both Sagittarius and Capricorn as we turn our attention to Aquarius and discover perhaps the most mysterious creature of them all: humans.
Like its predecessor Capricorn, Aquarius is one of the oldest constellations found in Sumerian myth, Babylonian codex, Vedic Astrological tradition and Chinese star lore. In ancient Sumer and Babylon the star cluster was associated with the great God Ea himself, the annual flooding of the Nile, and the emblematic depictions of the constellations could be elaborate, including a man bearing a cup with water flowing all around.
As we move forward into time and into Ancient Greece we see that the emblems associated with Aquarius become simplified – most often just the depiction of a cup or the depiction of a man with a cup – and the story behind the stars became more layered and nuanced. For the story of Aquarius is one version of the story of the Flood which is a integral part of ancient myth in many parts of the world.
The Greek version stars the son of Prometheus, Prometheus being literally "forethought" and best known as the Titan who, after seeing that the Gods had given all of creation special gifts except for humans, decided to steal fire from the heavens (star fire?) and teach people how to work with fire as a tool.
Prometheus' famous punishment was to be chained to the side of a mountain where a vulture would swoop down and peck out his liver. Well, somewhere in all of that he had a son named Deucalion and just as Prometheus' name is forever associated with the element of fire, Deucalion's is associated with the element of water, and later air.
It all began with a sacrifice that went wrong. In some stories it is a king in Athens who pours a libation of water instead of wine, angering the Gods. In the older stories it is something more violent and bloody, the sacrifice of a young boy to Zeus, that was taken as deeply offensive, heretical, and impure.
Here we see one of strongest traits of Aquarius come to the foreground – for this is the sign that is often seen as the cosmic rebel, refusing to go along with "the way it has always been done" and instead looking with fresh eyes at whether an action still makes sense or is relevant (or was ever appropriate).
Aquarius is the sign least interested in tradition and there is goodness in that attitude because certain traditions (like human sacrifice, slavery, and child brides to name a few) must be called for what they are – wrong and unjust – and stamped out firmly and completely.
So, a young boy was killed for no good reason and the gods became enraged. What I hear below and beneath the surface of the story is the grief; that the heavens wept at the loss and waste of innocent life, and so they cried, and they cried, and they cried. And the waters came rushing down covering the land over and the rivers began to swell up and out and overrun their banks, and the oceans began to grow greater and higher and vaster than ever before.
That a flood is a cosmic cleansing is pretty obvious. Waters can ravage and level land as surely as fire can although in its wake, after the mud has dried and the sun has pierced through once more, great waters also prepare the land for new life. It is this way for us too, especially when we are guided by Aquarius. For this sign understands that when there are traditions and ways of doing things that are not only not relevant but positively harmful to self and to others there must be atonement, there must be cleansing and purification so that the harm and violence done can be washed away and out to sea. This is blessing work but also work that leaves us with the need to start again, find a new way, build something else.
And this is where Aquarius shines. For this is the part of the sky that inspires us with innovation and inventiveness; the place that encourages us to look forward into what is possible and not back into what has been. The water that overflows from Aquarius' cup covers over the land and removes what needs to be removed, but then the real work of humans' deep and brilliant minds is allowed to take center stage as we ask the question: what can be created right here and right now?
In the tale, the creator is Deucalion, Prometheus' son who first figures out how to survive the Flood by building a boat large enough and sea-worthy enough for himself and his beloved wife. Once the waters have done their cleansing, deepening, work they recede and Deucalion is left as the only man/Titan standing alongside his love. They become the founders of a new city where new temples, new governance structures, and new traditions take place.
Again, the parallels with the astrological qualities of Aquarius are profound. Lovers of what is new and what is possible, Aquarius is also a very political sign – concerned with the community at large, the polis as it was understood in ancient Greece – meaning the entire city. This is also the place where we see the Air element show up in Aquarius, for despite all the water image, Aquarius is an Air sign and Air signs are all concerned with the bonds of civilization, social contracts, and the most just way to live life. In our day and age of virtual communities Aquarius often makes itself at home on the web and thrives in any environment where new and more just forms of connection and representation are under consideration.
When faced with the task of repopulating the Earth, Deucalion and his wife were told to take the bones of their mother and throw them behind their backs. They used their mental gifts to unravel the mystery and understood that "bones of your mother" does not refer to the bones of your literal mother, but rather to the great rocks, the "bones" of THE mother – Gaia, the Earth. So they took rocks and threw them behind their shoulders and children sprung up in their wake.
This too speaks to the qualities inherent in Aquarius – the love of a good riddle or puzzle, a mental brilliance that is able to see past the surface right into the essence of things, and a way of living life that is fertile and procreative, but not in a conventional manner.
Often it is said that what separates humans from other creatures, what makes us so different is our intellect. But for the ancients and our own ancestors that was not quite the right understanding. Rather, the gift that we carried is the ability for intellect to join forces with what we feel deeply, and what animates us and stirs us into action – it is that we are capable of right relationship between all of these parts that is truly remarkable. The same is true for Aquarius.
Sometimes the sign is characterized as "too mental," too "in the head," but the truth is that Aquarius' nature is born not fully sprung like Athena, but from a great well of emotion, of grief so deep that the waters themselves spilled out and over. Mental agility and creative thinking are called up not in contrast to but from the depths of those deep feelings and work in service of creating the new possibilities that those passions inspire. And this, I think, is what it means to truly bear water. For it is not about offering a cup full of water to this or that person – Aquarius is not the cup bearer, but rather the one who will bear up under the onslaught, and survive it so that there might be a new day
Water-Bearer As Animal: By Sara Magnuson
You are ready to shed the past way of doing/being/thinking
You want to call in a new reality, new possibility, new potential
You need to rebel, rock the boat, or stir up waters that have grown too stagnant.
You desire to foster and support your mental agility, wit, and inner brilliance.
You want to learn more/work with about advanced technologies of all kinds.
You'd like to support a new creation or invention.
You want to strengthen group dynamics, form a group for a specific purpose, and/or honor your community.
You are launching any kind of web or social media presence or generally working with computers and the web.
You need to color outside of the lines.
You are ready for a paradigm shift.
You desire to focus on the future and what is to come.
You want to marry intellect with deep emotions for a fuller experience.
Be Wary Of:
Questions to Ponder:
Active Imagination Journey:
Altar/Ritual:
Our ritual for Aquarius is going to be a bathing ritual in honor of all of that water.
You will need:
1 cup kosher salt
1 pinch of dried peppermint
1 pinch of dried lemongrass
Set yourself up so that after your bath you have your incense ready to burn and you will be able to step through the smoke and then access your clean clothes.
Take your bath, allow yourself to focus on what you are ready to leave behind. See, sense, touch, know, hear, and feel yourself dropping it into the water. Every time you run water over your body see, sense, touch, know, hear, and feel how more of the old story is being dissolved, released, and shed.
When you are ready stand up and drain the bath. Affirm and acknowledge that as the water circles down the drain all that you have released is going into the deep earth where it can be transformed into something good and useful once more.
Standing naked, do not dry yourself off with a towel but let yourself air dry. Light the incense and when you are ready to step out of your past and into your future, walk through the sacred smoke.
Combine the salt, herbs, baking soda, and peppercorns together. As you mix the ingredients focus and pray over what you are ready to let go of and what you are ready to step into moving forward. You may want to write both of these down in petition form.Run your bath and add the ingredients to the bathtub. You may add the ingredients loosely but do be aware that clean up might require more of you if you choose that route. You may also place the ingredients in a muslin bag and add that to the bathtub. If you only have a shower place the ingredients in a muslin bag and hang it on your shower nozzle so that the spray goes through the bag and then onto your body.
Your clean clothes should be waiting on the other side, put them on and as you do so affirm and acknowledge that you are now fully inhabiting your new story, new possibility, you are calling in your future.
Say any words of thanksgivings and leave any offerings you like as a final act to this rite.
About my Co-Author: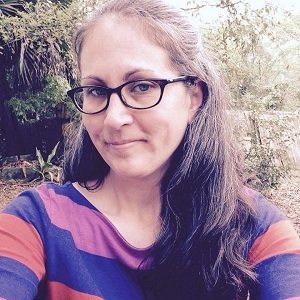 Sara Magnuson  is a crafter of spiritual supplies, a reader of cards, a diviner of animals, and the co-founder of Candlesmoke Chapel. Her personal practice is eclectic, animistic, and ancestral. The guidance she provides is based in the messages of Nature and its role in how we move through this world.
Save
Save
Save
Save
Save
Save
Save